Publications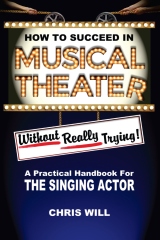 How to Succeed in Musical Theater without really trying: a Practical Handbook for the Singing Actor                                                      
There are many actors who can kind of sing, lots of singers who can sort of act, and a great deal of dancers who doubt their ability to do both. Whether you consider yourself an actor, singer, or dancer, this little book will help you become the true singing actor by giving you the tools and skills to act on pitch. 
Can you beautifully sing a G-flat while pursuing an objective all within the same theater beat and music beat of a song? You can; you just need a little help. You need a bridge, an artistic bridge that can help you unite the two opposing artistic worlds that make up the form of msuical theatre: music and theater. This little book is a blueprint to help you discover that bridge.
This little book will give you what you've been craving:the knowledge you need to become a true singing actor and understand how to act and sing simultaneously within the musical theater song. 
It is available for sale from Amazon here.