Journal Page
---
Friday July 30, 2010
9:01 AM
Chris
Door monolouge
I don't know what to do. Why can't someone just tell me what to do!! You sir, right there…no not you, (pointing) yes you, can you tell me what the crap I am supposed do with my life? Where are you going? Don't… (Pause) Didn't you love it when you were younger and you didn't have to make a signal decision all day? From the morning when you woke up, you were diapered and your cloths were waiting for you laid out, to the night, when you were told it was bed time. Everything was decided for you. There was no need to have keys for your doors, they were opened for you. Who closed all my doors? There are doors and there are doors. Some are big and some are small. Some are scary and some make you wet your pants. Either way I believe I am equipped with the keys! I will not shy away, even if my pants are wet.
Chris Will (c) Junly 30th 2010
---
Wednesday July 22, 2009
9:11 AM
Chris
I have not posted anything in a long time. Lot's have changed since my last post. We have moved from New York City and now live in Rock Springs Wyoming. Why you ask? I took a professor job at Western Wyoming community college home of a wonderful musical theater program. I am now getting the opportunity to teach and direct musical theater. The transition from New York City to rock Springs was pretty good. We miss all our friends in New York City and the wonderful opportunity that city brings. But I am loving my new job where I can put all my theories that I've learned along the way to the test. I promise mom and Mary Jo, I will use my website more efficiently now. More wonderful posts to come!!!!
Oh, we also had another baby, she was born almost a year ago in August and her name is Ashley. Caitlin is now three and Ashlee will be one in August. Beth is doing well. She has adjusted from being a full-time worker to a full time mom and she is good at both.
---
Wednesday July 22, 2009
10:47 AM
Chris
Muscial Theatre DNA
By Chris Will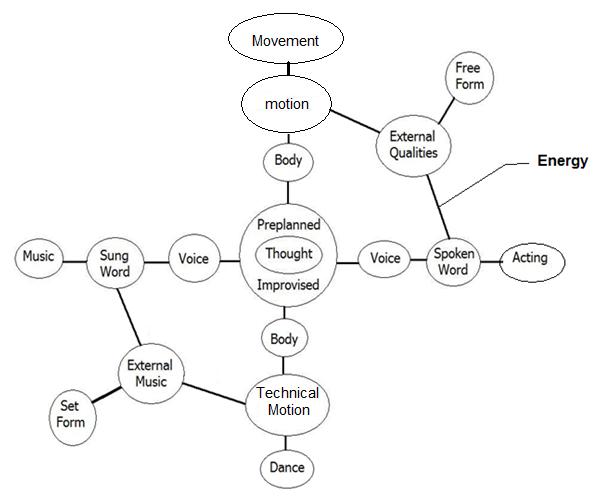 Please e-mail me if you have any questions about this (cwill@wwcc.wy.edu)
This is what I think the Art of Muscial Theatre Is
Doing all of these elements at the same time!
Acting =
·Objectives
·Conflict
·Images
·Connected to thought
Music =
·Sing on right pitch
·Use proper Rhythms
·Use breath Properly
·Connected to thought
Dance =
·Move in proper Rhythm
·lean different skills for body
·Know how to technically use your body
·Connected to thought
Movement =
·Using the music to create gestures
·Using Body to pursue an objective
·Movement in between Technique Motion
Set form =
·Given Technical motion or Sung word to do something (Dance or Sing) in a concrete way
Free form =
·Given motion or spoken word to do something (act or movement) done anyway you want, you choose how it is done
External Music =
·Music that is guiding your singing or Technical Movement
·From Piano or CD
External Qualities =
·Words that are guiding your Acting and your Movement
·Much like Music these are words to help with the same process
·From the Director or teacher
Sung Words =
·Words sung in Rhythm
·Music's main element
Spoken Words =
·Words spoken freely
·Acting's main element
Motion =
·Using the body in a free non-technical way
Technical Motion =
·Using the body with the skills & Technique learned in dance class
Body =
· The body is used for technical movement in dance and all three Acting, Singing, Dancing, with Movement
Voice =
·The voice is used for either spoken words or sung words
Thought =
·Is the center of everything we do in musical theatre
·The process of thought is divided into two types
·Preplanned
·Improvised
·Must start with Preplanned and willing to change thought in the middle of the process on stage with Improvised
Energy =
·Is the lines that connect all the elements together
·Is what puts the Musical Theatre DNA in Motion
· It is what is released as the end result
---
Wednesday March 19, 2008
8:00 AM
Chris
Well, back at the auditions. I had one for a summer stock season. It was for 5 shows, and I went in feeling good, and I sang two songs for them and made then laugh, so I feel like I did my job. There are always so much that you can't control, so it feels good when you do the best you can, and leave it with them.
More to come.....
---
Tuesday February 26, 2008
8:00 AM
Chris
DUCK
Had another one today, it was for a voice over. It was my first voice over audition in New York City, and I had a great time going it. It was for a new Adobie reader program. Dont think I got it, but had a fun time with it.
More to come....